Pure natural fiber
Many carpets advertise themselves as "ecological" or "environmentally friendly" because the visible part is made of a natural material. But what about the underside, the so-called back? Here the fabric is usually coated with latex. In many cases, the two sides are also glued together or the manufacturer uses chemical fillers. Those who value ecological floor furniture can despair here.
Until now! Our Purstoff series combines the carpet made of coconut or sisal fibers with an underside made of recycled fleece - purely mechanically. No rubber, no plastic, no industrial glue! No use of fillers, foam and latices!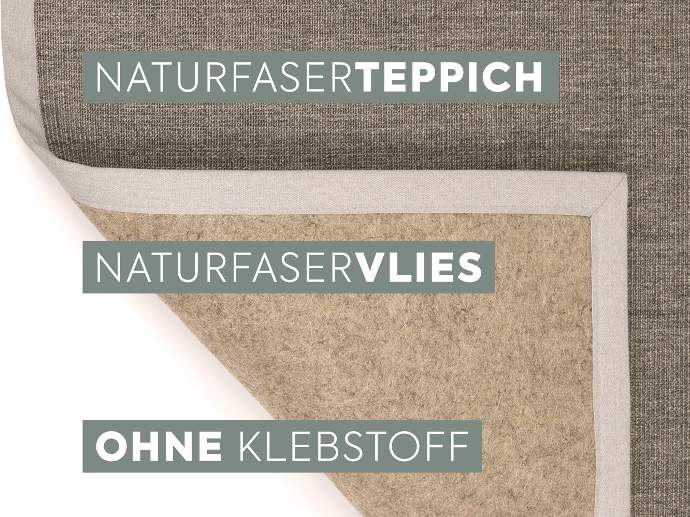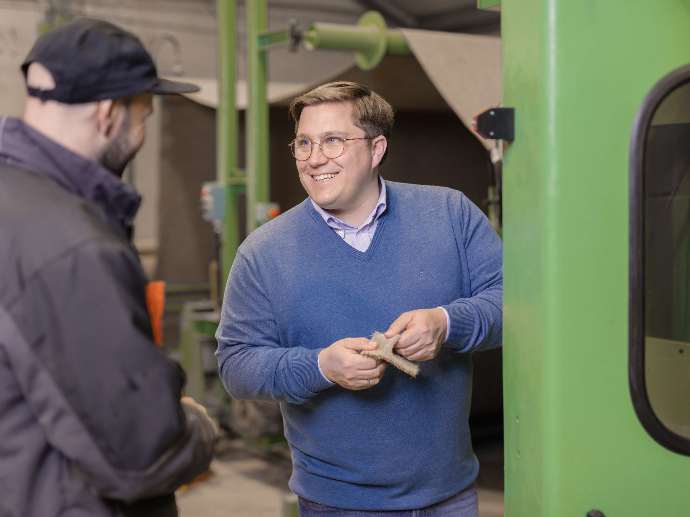 Purstoff – the new product from Grundstoff!
Introducing a new series of highly functional natural fiber rugs that have been specially developed for a natural living experience and are geared towards sustainability.
Thanks to our innovative process, your customers get a rug completely free of plastics that still holds wonderful product properties. With this we have created a product that consists of 100% natural fibers. The climate and moisture-balancing fibers contribute to a good room atmosphere, and all materials are antibacterial, flame retardant and antistatic.
We manufacture rugs from the Purstoff series in any desired size and shape. The carpet can be loosely laid up to a size of 25 m².
Why do you need a backing at all?
Carpets do not necessarily have to have an underside. However, there are good reasons for this! On the one hand, the underside offers the carpet more support overall. It will hold its shape longer and the weave structure stays where it belongs. Anyone who has a sensitive floor, such as parquet or certain laminate floors, also pays attention to a certain protective function. The fleece is soft and does not damage the floor. Carpets with a fleece underside insulate impact sound and room reverberation better and impress with their heightened level of walking comfort. Last but not least, dirt particles from the floor do not get into the upper material, but are stopped by the fleece, where they can be removed again by regularly knocking the rug out.

Use our 100% natural carpet series now for a timelessly beautiful, natural and pollution-free living experience!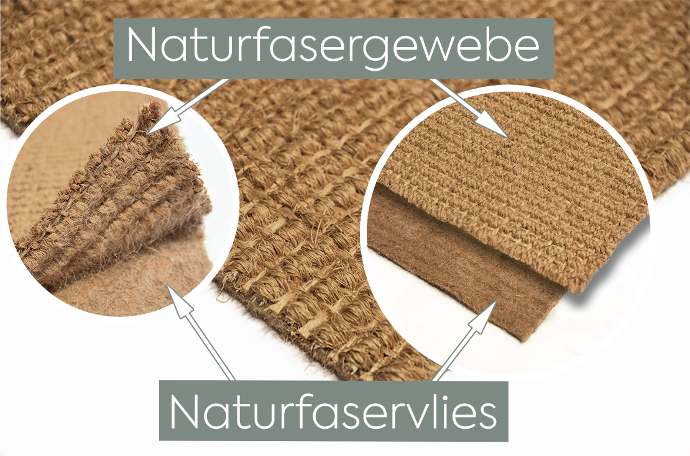 Significant benefits

100% natural fiber
Natural fiber carpet fabric + natural fiber fleece backing + natural fiber edging

Biodegradable
After the end of use, such carpets can also be shredded and used as mulch.

Free of adhesives and plastic
This means that no danger can emanate from them, not even in the event of a fire.

Recycled where possible
Recycling of renewable materials? Sure thing! Purstoff has a border made of recycled 60 % cotton and coffee sacks are recycled for the sisal in the fleece.

Better insulation
...from room reverberation and impact noise, thanks to the natural fiber fleece.

Timeless design
Classic bouclé weaves and yarns mottled in a new way are simple and emphasize with natural elegance.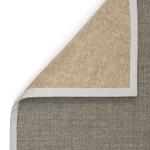 Free of Latex
As beautiful as natural latex is, in certain cases it can become a problem for the floor. Our fleece can be used on such without hesitation, because it is free of latex!
Technical Data
Wear layer

100% Sisal
Back
Fleece made from kenaf, hemp and recycled sisal (from coffee sacks)
Border
100% cotton (60% of which is from recycled cotton, 40% of cotton from the "Better Cotton Initiative")
Pole weight

ca. 1,900g / m²
Total weight

ca. 2,500g / m²
Manufacturing type

machine woven
Tested for harmful substances

yes

Suitable for underfloor heating

yes


Pile hight



7 mm


Standard sizes



67 x 133cm
80 x 160cm
133 x 190cm
160 x 230cm
200 x 290cm
240 x 340cm

Custom sizes



Minimum width: 60cm
Maximum width: 400cm
Minimum length: 60cm
Maximum length: 3,000cm
Outdoor carpets - robust elegance
Our wonderful outdoor rugs and carpets are ideal for indoors and outdoors alike. By the way, we also manufacture these in bespoke sizes and forms.